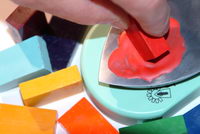 ... can be used as a mini hotplate when upturned.
This small painting iron is an ideal design for any type of wax melting or encaustic wax painting technique.
It holds an adjustable yet stable working temperature & offers versatile and compact operation as well as being lightweight to handle.
#99530100