An OVERVIEW & some generalised cautions in use of Encaustic Mediums, heated tools, pigment powders, wax and so on.
Please familiarise yourself with some of the common cautions below
encaustic.com offers the Encaustic Art range of wax block colours because they are effective and safe in use. They are used worldwide by all ages and abilities without toxic risk. Through instantly achievable techniques the interest and experience of encaustic art continues to spread with excitement and many satisfied users.
However, we are very aware that they do not suit all needs nor meet all demands. In respect of that we have used the experience of Michael Bossom to furnish some further approaches and materials.
Encaustic relates to burning, to heat as a solvent. There are obvious dangers associated with hot apperatus, but there are even more potential dangers in dusty poisonous pigments. Even handling some pigments is hazardous!
Please familiarise yourself with some of the common cautions below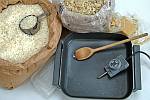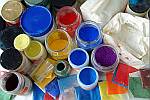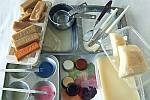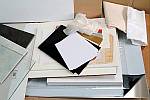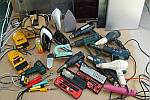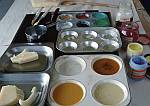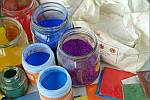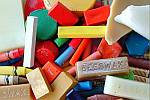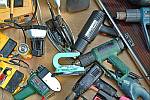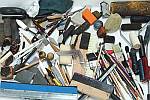 PRODUCT & MATERIAL AVAILABILITY & SOURCES

Everything and anything shown on these pages was found and procured somewhere. Unfortunately we are not in any position to direct you to any known sources of anything apart from the stuff specifically shown as available in our

online store

.

You will need to discover your own sources and resources. With the www it is a lot easier these days.
* Some of the things showns may now be outdated or just unavailable.

Work in an organised manner without electrical cables trailing underfoot.
Set up in such a way that you do not need to lean over hot tools or equipment.
Most skin burns that I ever received were by reaching over something hot and making skin contact by mistake - a bit akin to reaching into a kitchen oven carelessly.
Don,t add or drop ingrediants from any great height, gently introduce new materials into any mixtures being made.
ENSURE YOUR WORK ZONE IS WELL VENTILATED
Read hazard and cautionar label advice on all compounds, pigments, waxes etc that you use. Your source of purchase will be required to furnish you with this, in some places by law, in others perhaps by request.
Think twice, do once.
Hot wax in deep molds ca still be molten within, even though the surface looks set. Congealed wax skins can burst if a mold is prematurely handled in a rough or inappropriate manner (like turned upside down for instance!)
If you are using a hammer or mallet to crush material do it in a safe way on a totally solid surface and with adequate protection against shattering crystal shards and resultant dust.
Masks are useful when dealing with any powders.
Hot vessels are hot, so padding or oven gloves are needed to touch these items during any moving or pouring operations.
Use "common sense" (not allowed to cite that in British courts of law apparently!)

Wax fumes

ventilation, eyes stinging, breathing effects.
Wax will create fumes, especially if overheated. These can be detrimental, so ensure careful controlled heating operation and make sure you set-up a system that involves well ventilated space. A single open window may not be enough and a stream of air blowing through the space is far more desirable. Use a fan to help move and vacate the stale air.
Heated Tools
ventilation, controllability, skin burns, wax spills, pigment poisons, water& electricity,
contact contamination
skin contamination, eyes contamination,
airbourne contamination
dust, fumes, masks, eye protection, ventilation
consumption
eaten, swallowed, licked,