Working with the Encaustic Art range of products is safe & fun, but please read & follow the simple & common sense advice below.
NOTE: The encaustic art iron and stylus low heat tools are made especially for use with this wax. They do not achieve the wax's flash point temperature so may be used with confidence.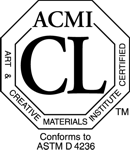 Parental guidance for children is mandatory
Work in an organized & uncluttered area
Ensure you have good ventilation, especially when using tools over 200°F / 95°C
Avoid trailing electrical cables
Do not use electrically powered items near water
Do not lean or reach over the heated tools
Do NOT touch the heated parts at all!
Set the tools to the lowest effective temperature
Do not leave tools switched on unattended
Clean wax off your tools regularly
DO NOT HEAT THE WAX COLOUR ABOVE ITS FLASH POINT!!!!
In the event of fire use a powder
Read the official warning statements that our toxicologist and chemist have made for us.
USA ONLY !
CL LABELLING NOTES:
WARNING: CONTACT WITH MOLTEN WAX OR HEATING IMPLEMENT MAY RESULT IN A SKIN BURN.
PRECAUTIONS:
Avoid skin contact.
KEEP OUT OF REACH OF CHILDREN.
FIRST AID: If skin burn occurs, treat with ice compress for 15 minutes. If symptoms persist, see a physician. For further health information contacts a poison control center or call
BURNS! ...can happen to anyone if you are careless
FIRST AID: If skin burn occurs, treat with ice compress as soon as possible for 15 minutes. If symptoms persist, see a physician.
* Lavender Oil is helpful and soothing to burns.
WARNING STATEMENTS:
Parental guidance and supervision are mandatory if material is going to be melted or used. ***Children could be severely burned ***.
Warning: Incorrect heating of this material could result in a fire.
Fire extinguisher: A dry chemical fire extinguisher should be available if material is heated.
If heated: a well ventilated area should be used.
Do not heat above the flash point. Wax can catch on fire if overheated.
INHALATION: wax fumes from heating. Fumes from overheated wax may be mildly irritating to nose, throat, and eyes. Usually not toxic.
EFFECTS OF OVER-EXPOSURE (EO) OR FIRST AID (FA): Remove to fresh air. Call a doctor.


Enjoy the wonderful experience and fantastic effects that encaustic art offers. Work carefully & follow the advice here.
Accidents do happen, but need not and can often be avoided by sensible practice and a calm workspace.
Please take the time to read through these notes of advice, they are here to help you get the best from the encaustic art activity.
Thanks for your time and attention in this respect.