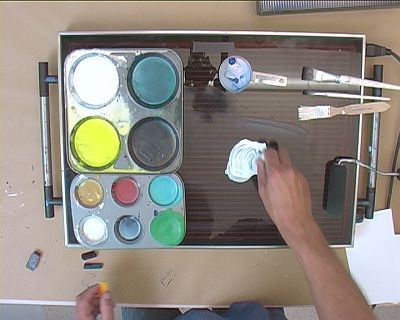 NOTE* This A2+ hotplate is best for direct working / surface use rather than a palette for deep tins of wax. It will only melt up to 1cm depth due to top temperature around 87 to 90C max. It is not good for deeper tins of wax - use a hotter device but be careful of overheating in deeper tins!!!!
It is pretty straight forward to see that the A2+ Ultimate Hotplate forms an ideal palette for keeping encaustic wax paint colours molten and usable. It is also great to keep your brush heads warmed and ready to use.
Rollers, palette knives and other tools can all be kept warm and ready too. A collection of small flat bottomed muffin trays for multiple colour pans or single tins for seperate individual colours - all work well.