The encaustic art wax colours create wonderful art work, the surface of which is normally polished as the ideal finish.

However, some types of work that might be handled can encounter possible abrasive damage of the fragile wax surface. These can therefore benefit from the application of the wax sealer - especially greetings cards.
Polish the wax surface first!

Then apply the acrylic wax sealer using a soft haired brush. Scumble it on, then brush lightly in one direction to finish. If brush marks show then you can apply a second slightly diluted coat.
It dries in about 30 minutes to 2 hours in a warm room.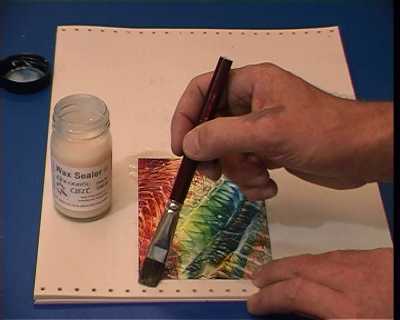 It is best to apply the sealer undiluted for the first coating so that it adheres well to the polished wax surface.
The sealer can be diluted with a little water if it proves too thick or shows brush marks.
Clean the brush with warm water before the sealer dries!

#99536000