Sizes range from A6 to A1


The card is a 300 gms weight.

Wax sits on the surface of the encaustic art painting card allowing re-working at any future time. The wax adheres well to this card and flaking off is not a problem unless the application is very thick and the card is then flexed. In such usage glue the card to a rigid backing support material (cardboard / ply / MDF / masonite/ etc.)

The standard card stock is white with the same surface quality on both sides. It is NOT acid free, but IS very good material for encaustic art.
As this image shows, wax can be removed from the card surface using the heated iron to remelt it, whereas on regular absorbent paper the wax will saturate & impregnate the fabric of the paper, making it impossible to remove once applied or at any later time.
* Absorbent surfaces can be great to work on, but for initial iron techniques it is best to use this card or similar.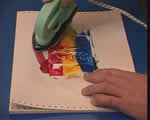 Click the image to see absorption & non-absorption